Dr. Matthew Stanman (Dr. Matt) & Dana Stanman
Somis Veterinary Hospital has been a neighborhood landmark operated since 1973.  Revitalized and under new ownership late 2012.
I am a 2006 graduate of the University of Illinois with extensive training in emergency and general practice so most cases can be handled in house without referral. We perform most bloodwork in-house along with most orthopedic and soft tissue surgery. I also provide cardiac and abdominal utrasound. I am a conservative doctor with a solid background...my recommendations to you regarding your pets health are based on my experience. I do not recommend unwarranted treatment.
We offer a client / patient centered approach, and all clients are given as much time as needed in order to make sure they understand what is going on with their pet. We will stay open as late as we need to; we will stay overnight with a patient if that is what they require. While we of course provide vaccines, we are not a high volume vaccine clinic and you are not just a number to us. If you desire a more thoughtful/meaningful relationship with your Veterinarian then I feel I am your Vet.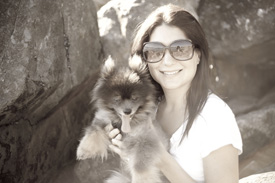 I am a Burbank, Ca native and I am so happy to be a part of this cool town.   With a degree in Social Psych, knowledge of small business operations and renovations, and most importantly, a strong desire to help animals and their owners I feel I have found the perfect "job". I love getting to know the people and pets that come through the door. Please rest assured that you and your pet will be treated respectfully and individually. A happy client and healthy pet is my #1 priority and I feel you will be satisfied with our service.

We both have a strong desire to be valued and productive members of this community and we would appreciate the opportunity to earn your trust. Call or email me with any questions. Dana